News

>

Galatoire Foundation Presents Local Nonprofits With $200,000
June 19 2019 |
news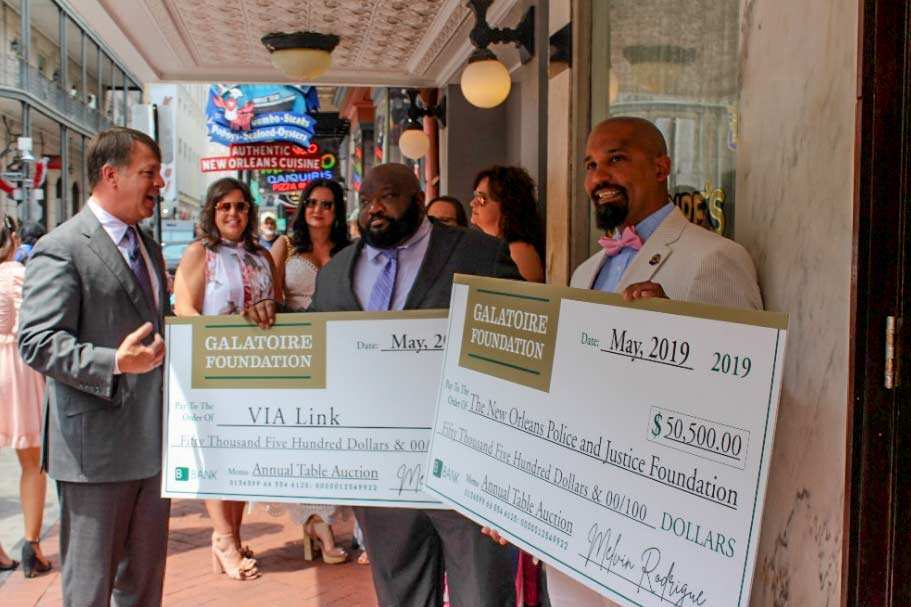 Galatoire Foundation President Melvin Rodrigue (left) presents VIA Link representative Clifton Harris (middle) and LaMont Hayes (right), director of development for the New Orleans Police and Justice Foundation, each with a $50,500 check.
Together, the Galatoire's Christmas and Mardi Gras Auctions raised more than $200,000 benefiting local organizations. A check presentation was held Friday, May 31 at the restaurant. This year's table auctions benefitted the Galatoire Foundation , which has been dedicated to giving back to the New Orleans community and region that has patronized Galatoire's for generations; , an organization that provides information, referrals, training and crisis intervention to people in the Greater New Orleans Area for those who are homeless, hungry, depressed or suicidal; and The New Orleans Police & Justice Foundation , whose mission is to promote excellence in policing, efficiency in criminal justice and positive community engagement. From personal protective gear to horses and canines, they provide officers with the equipment and supplies they need to keep New Orleans safe.
"Two times a year 162 seats get auctioned off," said Galatoire Foundation President Melvin Rodrigue. "Since 2006, we've raised $2.2 million for local charities. As a foundation and as a restaurant, we do our very best to make the charities timely and about things that are important in the community. We are pleased to have this year's auctions benefit such wonderful organizations."
For years, the Galatoire Foundation has raised millions for charities in Louisiana by allowing guests to bid on tables to reserve the Friday before Christmas and Mardi Gras. Since the inception of its now-famous holiday table auctions in 2006, all proceeds collected have benefitted nearly two dozen New Orleans-area charitable organizations, from neighborhood rebuilding projects and crime prevention to youth programs and entrepreneurship efforts.
"Last year, more than 56,000 people called VIA Link," said VIA Link representative Clifton Harris. "These funds will help us to continue to provide our vital services to the community members who need them most."
"We are delighted to have been chosen as one of the recipients this year," said LaMont Hayes, director of development for the New Orleans Police and Justice Foundation. "Thanks to the Galatoire Foundation, we will be able to better serve our beloved community of New Orleans."
Created in 2010, the Galatoire Foundation establishes a framework for the restaurant's numerous community activities and donations. The Galatoire Foundation's community involvement extends across south Louisiana, working through Galatoire's and "33" Bar & Steak. More information here.
« back to news