News

>

The Galatoire Foundation Donates Meals in Response to Ida
September 20 2021 |
news
The Galatoire Foundation Donates Meals in Response to Ida
The non-profit organization distributed packaged Galatoire's meals in Raceland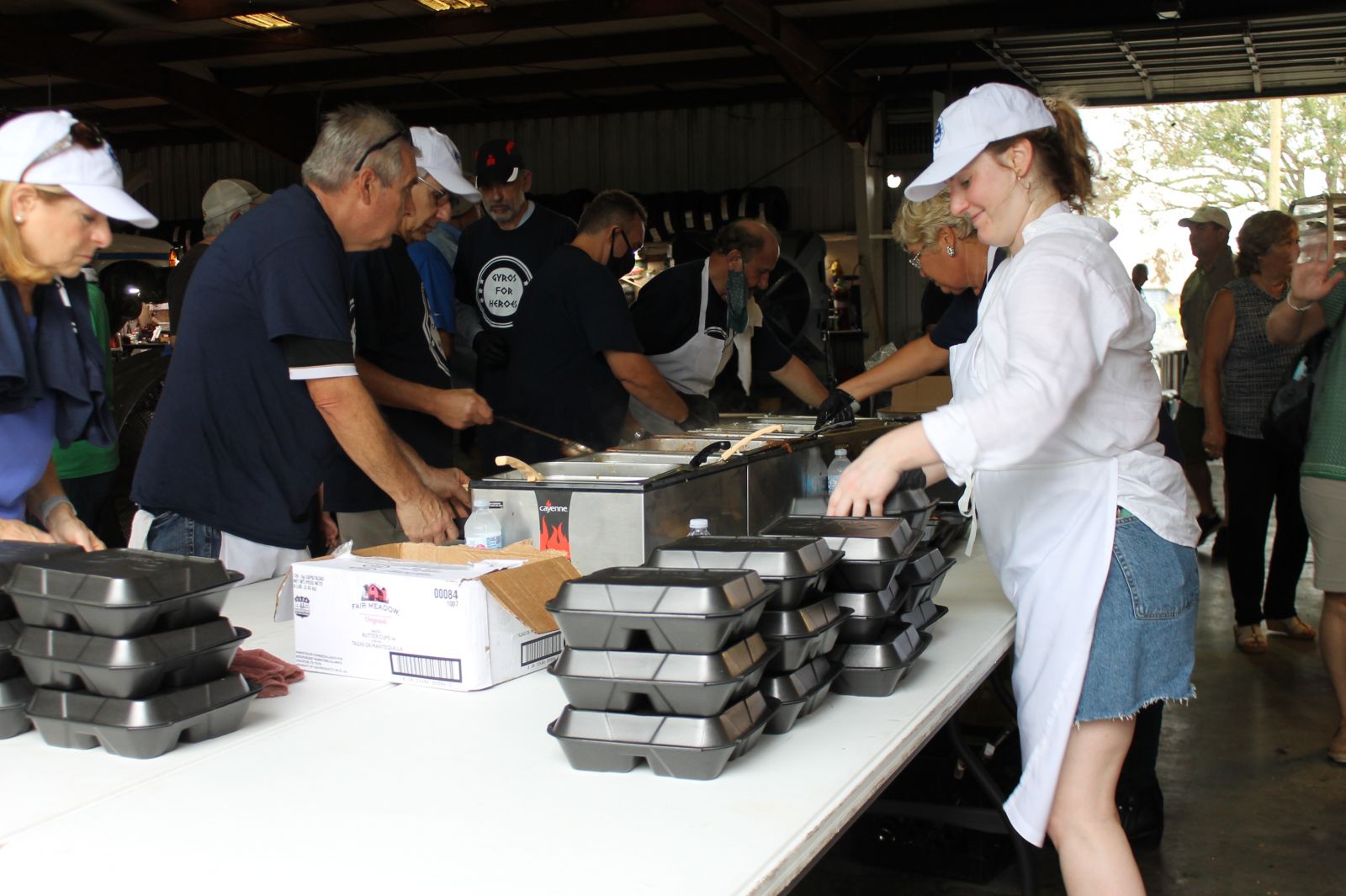 NEW ORLEANS – (Sept. 18, 2021) – The Galatoire Foundation prepared and distributed 1,000 Galatoire's meals to residents, first responders and linemen in Lafourche Parish today.
Working in partnership with volunteers from the New Orleans Holy Trinity Greek Orthodox Cathedral in New Orleans and the Lafourche Parish Sheriff's Office, the Foundation served Galatoire's Shrimp Creole, smothered green beans and a green salad.
"We know very well that the road to recovery in the aftermath of Hurricane Ida is long, but we can make a positive difference each day along the way. Our friends and neighbors in Lafourche have been with New Orleans and Galatoire's when we needed it the most, and we are going to be there for them today and in the future," said Galatoire Foundation President and Galatoire's President and CEO Melvin Rodrigue.
"Line workers, first responders, electricians, plumbers and other trades are working day and night to move Lafourche Parish down the road to recovery. Neighbors are helping neighbors. Families are helping families. Sharing a meal together, even for a few minutes, can bring a sense of normalcy and keep you going. I appreciate the Galatoire Foundation and the Holy Trinity Greek Orthodox Cathedral bringing some joy to our parish and recognizing the hard work everyone is doing here," said Lafourche Parish Sheriff Craig Webre.
Chefs from Galatoire's and volunteer chefs from the New Orleans Holy Trinity Greek Orthodox Church cooked the food Thursday afternoon at Galatoire's Restaurant on Bourbon St. located in the French Quarter.
The Galatoire Foundation's community involvement extends across south Louisiana, working through Galatoire's and Galatoire's "33" Bar & Steak.
###
About the Galatoire's Foundation: The Galatoire's Foundation is a 501(c)3 organization dedicated to giving back to the New Orleans community and region that has patronized Galatoire's for generations, allowing us to secure generations to come and remain a cornerstone in representing Louisiana and its authentic culture.
About Galatoire's Restaurant: A national dining institution, Galatoire's in New Orleans, was honored with the prestigious James Beard Award for Outstanding Restaurant in 2005 and named as one of New Orleans' Top 10 Restaurants in 2012. Galatoire's has earned the Wine Spectator Award of Excellence every year from 2007 to 2010, from 2011 to 2013 achieved the Best of Award of Excellence for its wine list. Saveur also named Galatoire's Friday Lunch one of its "25 Greatest Meals Ever," while Bon Appetit magazine has recognized Galatoire's as one of the nation's "Top Celebration Restaurants." For more information visit www.galatoires.com.
« back to news