News

>

Galatoire's Hires Executive Chef Phillip Lopez
October 1 2018 |
news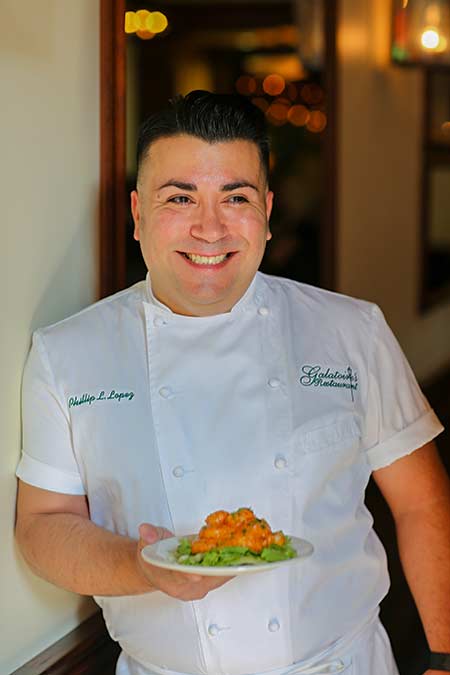 New Orleans native takes helm of French Quarter grand dame and Galatoire's "33" Bar & Steak
Galatoire's has hired Chef Phillip Lopez to lead the kitchens of both Galatoire's Restaurant and Galatoire's "33" Bar & Steak.
Chef Lopez was selected after an extensive search. He will assume his new position as executive chef Sept 3. Chef Lopez, well-known in New Orleans and around the U.S. for the level of talent he possesses, has spent a significant amount of his career working with nationally recognized chefs, but has chosen to make his home in New Orleans. His keen sense of New Orleans cuisine and creativity will be a great fit in the Galatoire's kitchens.
"Galatoire's is the best place in New Orleans for a chef to showcase their traditional training and the creative side of their culinary personality," said Melvin Rodrigue, chief executive officer and president of Galatoire's. "Chef Lopez has the talent and vision for sustaining what has made Galatoire's successful for nearly 115 years. He understands the established approaches and techniques at Galatoire's that are central to what our guests enjoy. He matches that with an absolute passion for sourcing the best local ingredients and creating the experience our guests deserve."
"As soon as I step into the Galatoire's kitchen, I will dedicate myself to Galatoire's cuisine and the stewardship of maintaining the traditions and experiences we have all grown to love and cherish about Galatoire's and Galatoire's '33'," said Lopez. "When chefs around the country come to New Orleans, I always bring them to Galatoire's. I want them to experience the main dining room and see how our cuisine is encompassed in what Galatoire's puts on a plate. Now I get to do that every day, taking something great and making it greater, while continuing to care for the people who bring Galatoire's to life."
Chef Lopez comes to Galatoire's with more than two decades of experience in the food and beverage industry. Most recently, he served as Executive Chef, Creative Director and Owner of six culinary concepts around New Orleans including Root, Square Root, The Test Kitchen, Petit Lion and Monkey Board. Previously, Lopez spent time at Restaurant August and Michel Richard's Citronelle in Washington, D.C.
In addition, Chef Lopez has earned a number of accolades, including being named "Chef of the Year" by Eater New Orleans, StarChefs' "Rising Star of New Orleans," Gambit's "40 Under 40," and was nominated three times for Food and Wine magazine's "People's Best New Gulf Coast Chef." He has also been recognized by Louisiana Cookin' magazine as a "Chef to Watch," as well as by Bon Appétit magazine.
Galatoire's and Galatoire's "33" Bar & Steak will host a series of events to welcome Chef Lopez, including the Chateau d'Issan & Chateau Pedesclaux Wine Dinner to be held Wednesday, Oct. 3. More details to come. Visit for more details.
About Galatoire's
A national dining institution, Galatoire's in New Orleans was honored with the prestigious James Beard Award for Outstanding Restaurant in 2005 and nominated again in 2017 for Outstanding Service. Galatoire's was also named as one of New Orleans' Top 10 Restaurants in 2012. It has earned the Wine Spectator Award of Excellence every year from 2007 to 2010 and from 2011 to 2013 achieved the Best of Award of Excellence for its wine list. Saveur also named Galatoire's Friday Lunch one of its "25 Greatest Meals Ever," while Bon Appetit magazine has recognized Galatoire's as one of the nation's "Top Celebration Restaurants."
About Galatoire's "33" Bar & Steak
Galatoire's "33" Bar & Steak is the premier destination in the Vieux Carré for enjoying the finest cocktails and traditional steakhouse fare. Whether creating memorable celebrations or intimate gatherings, Galatoire's "33" Bar & Steak brings to life New Orleans' next great tradition in a restored historic building that begins the latest chapter in Galatoire's storied history. Named number five in the Thrillist list of Best Steakhouses in New Orleans, Galatoire's "33" Bar & Steak highlights the finest cuts of USDA prime beef, whole fish preparations and other updated steakhouse delicacies accompanied by a custom-built arched bar featuring classic, hand-crafted cocktails and the finest wines and spirits.
« back to news